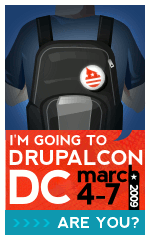 Hey folks, we're looking to get a head count of Ubercart users and developers who will be attending Drupalcon DC. There's an idea floating around to make sure there's some Ubercart gear passed around... t-shirts and the like. Maybe we could get someone to come do
tattoos
.
Anyways, if you're planning on going or potentially going, please take a moment to say so in the comments on this post so the powers that be can make sure there's enough gear to go around. While you're at it, the proposed Ubercart sessions could use a few more votes to make sure they're accepted for the conference. You can use the quick links in the Drupalcon DC block to the right to view the proposals and rock the vote. We look forward to meeting some new faces to go with the screen names.
(I'll go ahead and give one more plug for
Do It With Drupal
for anyone who'd like to come hang out with me in New Orleans and learn Drupal. I'm sure you can convince your bosses it's worth the cost...
)