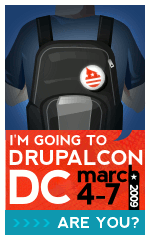 What's that you say? Drupalcon DC? Isn't that like 4 months away? Yes indeed, it seems like the last Drupalcon barely departed from the back of our minds when the new Drupalcon site was up and running. Tickets sold super fast and the sessions started pouring in. Lo and behold, the deadline for session proposals turned out to be early December, three months ahead of the conference. We had been waiting to make our proposals as we've focused on some client work and on getting the 2.x beta out the door. However, with the deadline, I buckled down and posted up our two session proposals:
Ubercart on Drupal 6 - an overview of the changes made during the Drupal 6 migration and a roadmap for future development. This is a quick introduction to Ubercart focusing on its strengths on Drupal 6 and our plans for further improvements for UC 2.x and 3.x.
Advanced Ubercart Usage - an overview of some advanced features Ubercart offers and how to get them working in your stores. I'll be covering the core and contributed modules that allow you to do things like file downloads, recurring fees, selling node access, setting up node checkout, and more.
The Ubercart development shop
Commerce Guys
has also proposed a session titled
Starting Your Own Ubercart Store
. This will be more of a beginner's walkthrough, covering the actual installation, configuration, and administration of an Ubercart store. We're excited to see this happening, and we're thankful to the many community members who take the initiative at camps and cons around the world to teach new users about Ubercart. In order for these session to make it into the final schedule,
we need you to go check out our proposals and rock the vote
. Take some time to vote on each of these sessions to make sure Ubercart has a strong showing at the upcoming Drupalcon. It'll be our fourth in a row, and we're excited about the opportunity to reach even more Drupallers. For those of you that just can't wait, you can also come learn about Ubercart in an extended session presented by Ryan Szrama at Lullabot's
Do It With Drupal
conference. I'll be on hand the whole time getting work done and chatting with whoever finds me. I'll also be sticking around most of Saturday for the Habitat for Humanity project! Hopefully we'll see you soon.